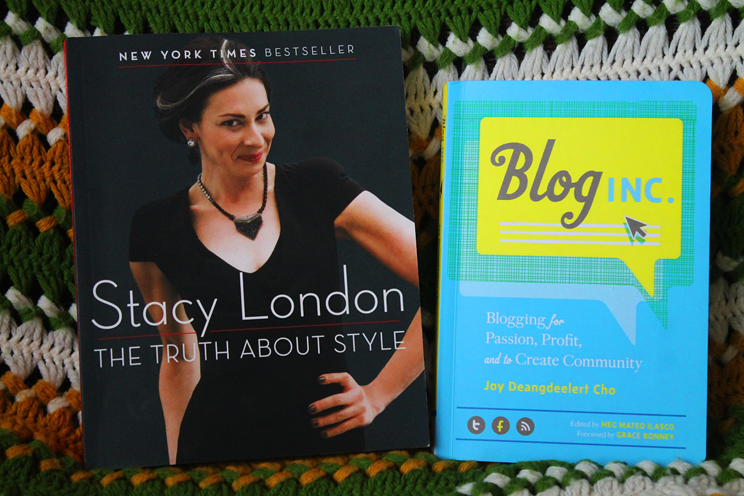 1. The Truth About Style by Stacy London:
This was awesome. I was a fan of Stacy on her show "What Not to Wear", and I just really love what she had to say about style. My feelings about personal style (not just "fashion") really clicked after she enlightened me with this book. First of all, I appreciate her candid recollections of difficult memories, self-esteem triggers and dissections of her own life. She styles and interviews several women, and I feel there's someone to relate to and something learned for each one. I take away from this book that personal style is not about the clothes. It does not mean wearing the most expensive or in trend items - style is feeling good about yourself, working with what you have, and just being in control about expressing who you are.
2. Blog, Inc. by Joy Deangdeeleri Cho:
If you're thinking about starting a blog, or if you're a bloggy nerd/enthusiast like me, I highly recommend this one! For me, this book really legitimizes full-time blogging and makes me feel optimistic about improving and growing my blog. It's full of success stories and personal interviews with tidbits of experienced wisdom from famous blogs like
Rockstar Diaries
,
Design*Sponge
, and
Cupcakes and Cashmere
. Some of my favorite bits of advice were: blog because you want to share/express your life journey and connect with others this way, find your niche, stick to daylight photos, and make all of your pictures the same width, for goodness sake! I also love that it included information about things like how to get more traffic by making your posts more easily searched on search engines, and other traffic analysis. Plus, it was so clearly organized, it makes it ideal to use as a reference when you want to go back to specific topics. One of the better books I've found about blogging compared to others I've found, that's for sure!