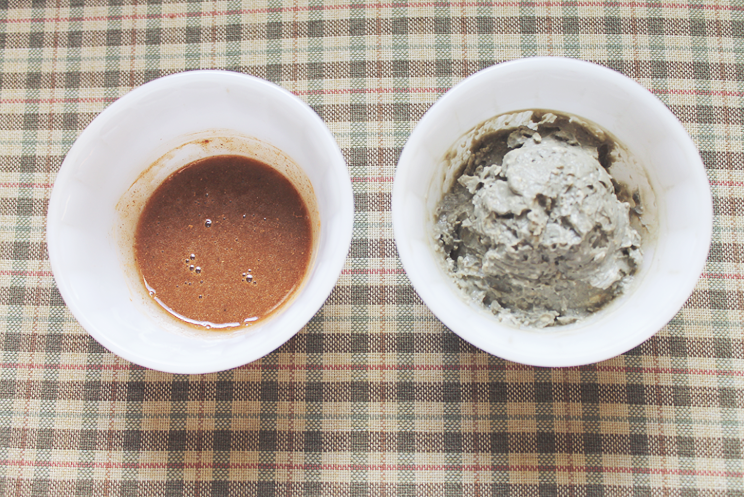 So you've noticed I'm on the natural side, bit of a hippie, right? Like...
remember
that I don't wear a lot of make up, favor
natural products
, try to eat
healthy foods
, and uh, have you seen my hair (or legs, eek)? I'm just not one of those gals who spends a lot of time on my "beauty routines." Truth be told, I was just never good at it (can't braid my hair or line my eyes to save my life!). It's a mix of admiration for nature & a natural look (how we are without human/cultural manipulation), plain ole laziness, and feminist philosophy, ie: my looks are not my most important asset in life.
However! Being girly sometimes is fun. Feeling clean and taking care of yourself really make you feel good too, so every y'know, fortnight or blue moon or something, I take a few hours out of an evening to do the works - face mask, painted nails, hot bath & a book, etc.
I've finally found a few natural/make-at-home recipes that work well for me anyway and I thought I'd share.
Let me know if you try them out!
Autumn Face Scrub
Ingredients: Cinnamon, nutmeg, and honey.
How to: Combine 1/4 teaspoon of the spices, and mix with one Tablespoon of honey. Wet face briefly with water, and spread on using circular motions. Add water to face (not mixture) as needed. Rinse gently with warm or cool water.
Detoxifying Clay Mask
Ingredients: Tea tree oil, oatmeal, and bentonite clay.
How to: Combine 1 Tbsp. of bentonite clay (which can be found at health food stores like Whole Foods, or online) with 1 tsp. of oatmeal, and 3 drops of tea tree oil. Apply liberally and leave on for 20 minutes. Rinse with warm or cool water.
Why do I prefer these recipes? First of all, many of the ingredients are things that are typically already found in your pantry. The scrub is a bit warming because of the cinnamon, so using the clay mask afterward feels cooling and lovely. After using these two recipes, my skin felt smooth and looked hydrated, and after an hour or so, the skin tone clear and more even.
Like I said, let me know how they worked out for you if you try them, or share your own favorite recipes, won't you?