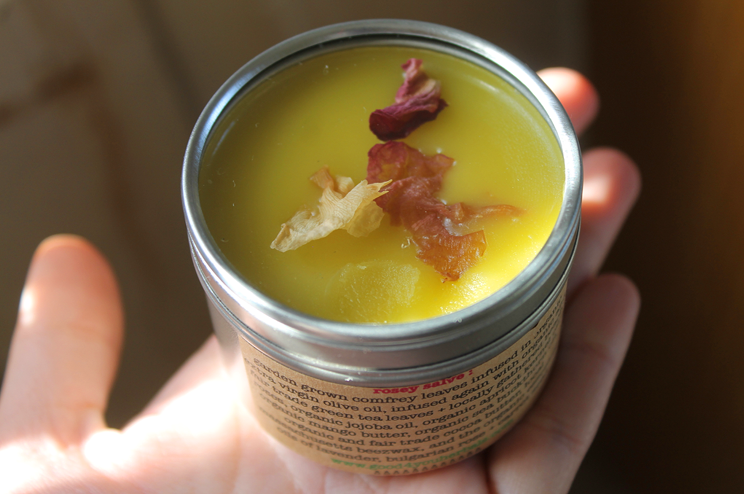 Ingredients: Comfrey leaves, olive oil, green tea leaves, beach roses, jojoba oil, apricot kernel oil, mango butter, sea buckthorn oil, cocoa butter, beeswax, essential oils: lavender, bulgarian rose, and carrot seed.
Price: $15
Review: I am loving this rose salve from
Good4You Herbals on Etsy
. If you're a fan of rose scented things (and I am - granny as they get, right?) and can't stand winter dryness, I highly suggest this salve. The only negative thing I thought about it was that the size of the container is a bit too large for me at first, thinking I wouldn't be able to use it all before it went bad. However, I have discovered daily uses for it and while it's disappearing slowly, I will definitely get a lot of use out of it. I've used it to soften cuticles, dry skin on my lips, nose & earlobes, soothe the brow area after plucking (or even as a bit of eyebrow wax for shaping/filling in), on cat scratches, a wart on the finger, - it totally does its job. I've also tried tea from this company that was tasty, so if you love organic handmade goods in colorful, hand-drawn packaging - check them out!
Bottom line: I'd buy this again in the future and use it for mild skin dryness & irritation. Love the light formula and feminine scent!