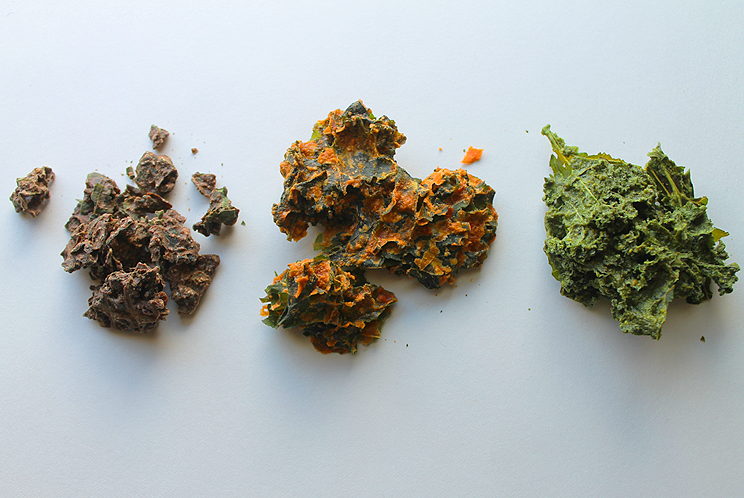 Long time no chat! So...
let's talk kale!
lol Why not, right? Personally, I've got a bit of a love/hate relationship with it. Ok ok, not really
hate
, more like I mildly dislike it sometimes, if only for the fact that it's a kind of an intense flavor, a bit bitter, and if it's prepared wrong it can be terribly chewy. And honestly, another almost deal-breaker for me with kale (chips in particular) is that this stuff gets in your teeth, not gonna lie. Like, you cannot eat this while you're out and about if you've left home without floss or a toothbrush or something! Maybe I'm being weird here but like I said, I just like to consider them an "at home only" kinda food. That said, (well-prepared) kale chips
totally work as a stand-in for my arch enemy the potato chip
, which I sometimes battle the urge to have while I'm engaging in some nightly "TV therapy."
Now that I've figured out how to work them into my life, I feel good about trying to eat more of them
than other, unhealthier snacks! In fact,
Alive & Radiant
has several tasty kale snack flavors! If you're curious about their products, I've provided some thoughts on three of my favorite kinds. Happy snacking!
Kale Krunch Chocolate:
Genius. Pure genius. These prove that I would probably eat chocolate-covered anything. Paired with kale particularly though, it kind of blends into the dark-chocolate flavor and complements it. It also gives it that sweet crunch factor too, of course. Definitely my favorite of the bunch. Go ahead, be crazy, try a chocolate-covered vegetable!
Kale Krunch Cheezy Chipotle:
To me, these were not as spicy as I wanted, but still very tasty. However, these stood out for their "cheezy" flavor. The cashews are magical here because they give the chips a little weight or "meatiness." I also really enjoyed the fresh red bell pepper and paprika flavors!
Rebel Without a Cause Spicy Superfood:
Really, really liked this one.
Check out the ingredients and nutrition info here
if you'd like. One of the reasons I liked it so much was for it's simplicity. At first I thought it would be too plain for me though, but truly it was seasoned just right - not too salty, and somewhat spicy. Warming, too. I also thought I didn't like turmeric very much but they are one of the few ingredients in these, so these made me re-think that, too!
Alive & Radiant has so many unique flavors of kale snacks, SO many more that I want to try! Like Southwest Ranch, Sweet Onion, and Tarragon Dijon. I've tried to make this stuff at home and for some reason I just can't get 'em to taste this good, so
don't hesitate to try a bag or two, you'll be glad you did!