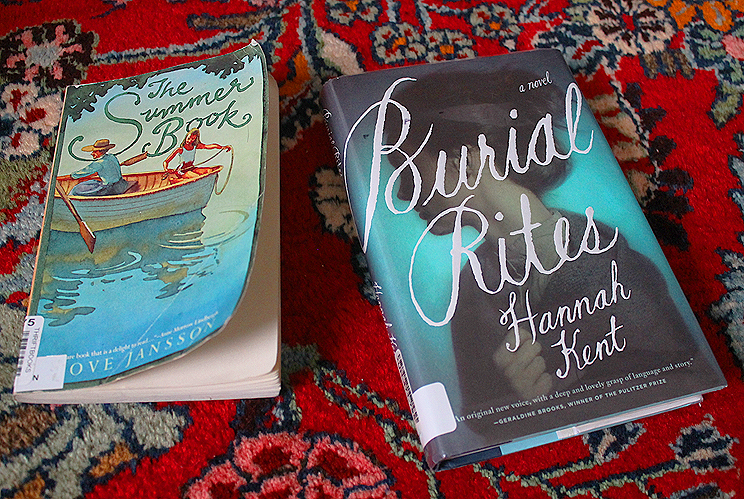 1. Burial Rites by Hannah Kent:
Turns out, I was wise to have read this book in the beginning of December before weeks of snow had set in, because I have a feeling it'd be kinda depressing if you read it once winter has worn you down for a few months. At that time though, I was totally stoked and ready to take on the challenges of the season. Every time the cold part of the year rolls around, I start to think about all the lessons winter offers - patience, how to accept change and loss, resiliency. This is the time of year I stop to think about the cycle of life. The story takes place in Iceland and is based on the life of a woman (Agnes) who actually lived there in the early nineteenth century. She was the last person to be publicly beheaded in Iceland at that time, as she was charged with murder. The clock is ticking for Agnes as the days before her execution, so the plot actually moves forward at an exhilarating pace, and truly you are striving to understand what happened to her, and what her story implies about human nature before time expires. As for the overall writing itself, its descriptive language and character development weren't extraordinary, and it wasn't full of what you might call insightful, "quotable quotes," but it was thought-provoking, grim, and real. So, read this one if you're ready to contemplate dark complexities of the human experience with a bit of history thrown in.
2. The Summer Book by Tove Jansson:
Absolutely the opposite in terms of tone for this one. Instead, this book is entirely focused on sunlight, family memories... With a month and half of winter left to go, it was definitely time to read something warm and optimistic! The story is about one summer of a family that consists of a grandmother, her granddaughter, and the granddaughter's father. Primarily it's about the relationship between an awakening 6-year-old girl and a wise old woman approaching the end of life. It takes place over a long summer on a lush island in Finland (the book was originally written in Swedish). It's a simple read that can be enjoyed in less than a few hours, and totally worth it to experience the sounds, sights, sensations, and smells of summer on a frigid day.